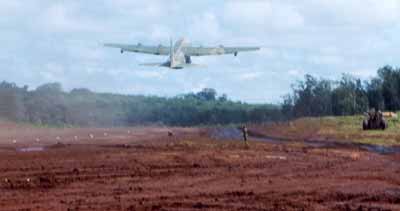 8th Engineers: Colonel Broumas' Skybeavers
It was always great working with the 8th Engineers, they weren't just interesting, they were amazing. Building roads, airstrips, LZ's, just about anything, and fast. They could start bringing in equipment early in the morning and with lots of help from the grunts and everyone else, have a fully defended fire support base carved out of open ground by nightfall.
I developed a good working relationship with the 8th Engineers Battalion Commander, LTC Andre Broumas, he was very enthusiastic helping me get good pictures of his "skybeavers". Many times I caught rides on his C&C huey. I lobbied for, and got a magazine photo assignment involved resurfacing and enlarging the airstrip at Bu Dop Special Forces Camp on the Cambodian border, so the big C-130s could land. It was projected to be finished in 4 days. They had been working on it for a while, the monsoon rains made it extra tough, the mud was unreal. They had to remove many rubber trees, and brave almost daily mortar attacks. A mortar round makes a big hole in the nice, smooth airstrip. On the afternoon of the third day it was finished and the first C-130 arrived.
To the left is a photo of the first C-130 into Bu Dop as it lifts off after bringing much needed vehicles and supplies. Note the mud in the foreground, it's about 6 inches deep, real slippery red clay.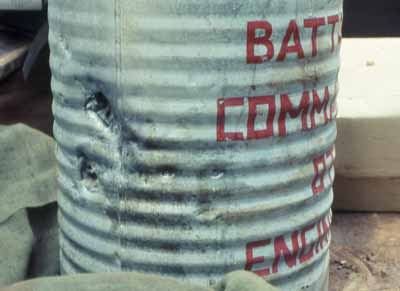 Saved by the Water Can
On the return trip to Phuoc Vinh in the Engineer huey I was snoozing sitting on the bench seat leaning forward on LTC Broumas big galvanized Igloo water can. Not exactly a pillow, but close enough. There was a BIG bang, I was thrown back, the pilot took evasive measures. We headed for Quan Loi, there was water all over the place, and a big hole in the water can, lucky for me. A 51 cal round from an anti-aircraft gun came through the bottom of the huey, hit the armor under the pilot's seat and deflected into the water can I was snoozing on.
The next day was the last day of the project. That morning as I walked to the helipad, I decided I had enough pix, and I didn't need to go back to Bu Dop that day, I was still a little rattled (and a little sore) from the previous days events, so I went back to the office and caught up on my photo coordinator paperwork that had piled up while I was busy working on this job.
Late that afternoon, I heard Major Coleman yelling "where's Terry!" He came running into the Press/Photo room and hugged me. He told me the engineer huey had been shot down and everyone aboard was killed. He thought I was with them, I should have been. It took a while for me to get over this tragedy, the loss of good friends. And how lucky I was, not once, but twice.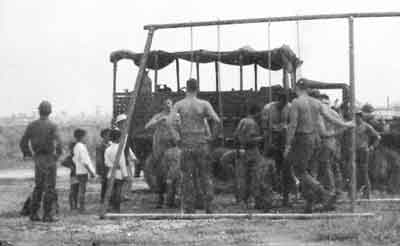 A New Playground for Local Children
The engineers did plenty of humanitarian work, fixing infrastructure, building new roads, improving drainage problems, and many other services. This in addition to their huge regular workload with the Cav.
The photo to the left shows engineers finishing up a playground for local Vietnamese children with a swing set.
My apologies for the photo quality, I scanned it from a beat up 35mm proof sheet. I thought it to be important to show that this was a common occurrence, but ignored by the media.